I've been thinking about weddings today. No one I know is getting married, but weddings are very big business these days.
There are multiple shows on tv about weddings. I like to watch "Say Yes to the Dress" on TLC, mostly because I love to see the dress styles, but also to watch the brides and their families interact. Maybe it's dress envy because I never tried on dresses when I was preparing to get married in 1987. Our budget was small and my mom was a wonderful seamstress, so it was natural for her to make my dress for me. After she finished it, I sewed the little bit of expensive lace I could afford onto it, and pearl beading as well. I still think it's lovely, but quite out of style, of course!
Penny and Craig, 10/17/1987
I think the extravagant designer dresses on "Say Yes to the Dress" are fantastic, though the prices are mind-boggling. Another show I watch sometimes is "My Fair Wedding," where wedding planner David Tutera produces an over-the-top theme wedding just weeks before the wedding date. Each event is orchestrated and blinged out to the max. It's kind of unbelievable how much work can go into one wedding.
At one time I thought about having an etsy shop for weddings. There are many such shops, related to every aspect of wedding preparations imaginable. As an amateur ballroom dance dress maker I was drawn to the idea of making the beaded, rhinestoned sashes many brides wear currently. I still think it would be fun, but I've got my hands full with painting! I think the sash below is beautiful and no doubt is quite a lot of work to create.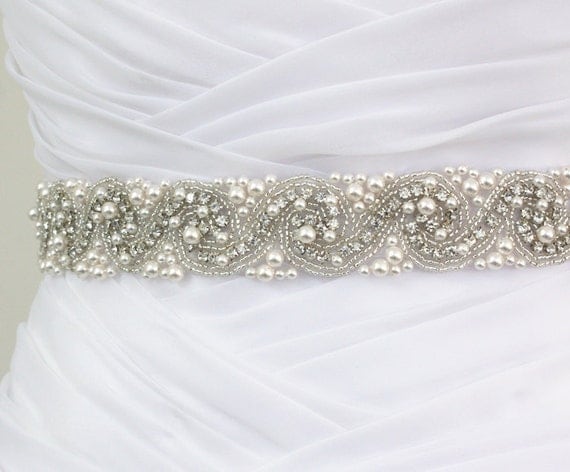 Wedding Beaded Sash by luxebridalcouture.etsy.com, $175
Today I happened onto "Bridezillas" for the first time and ended up watching for several hours, fascinated in the same way most of us can't help gawking at a car wreck. You have to wonder if the brides who agree to do the show actually realize how bad they look as they indulge in incredibly immature, selfish, and narcissistic behaviors, as the commentator makes snarky remarks throughout. But shows like that are often set up to create drama and conflict, so you can't tell what's real and what isn't. I kind of wonder what is going on in our culture, that many people have become so determined to create a spectacle where they are the Star on Their Big Day.
There is a sort of counterculture to this type of wedding extravaganza, however. Some couples are choosing to create weddings that reflect their convictions on green living, for instance by choosing a vintage dress such as the one below. Others are having entirely homemade weddings, small celebrations outdoors, and other very personal, private, low-key events. These weddings appeal most to me, probably because they are similar to my own wedding. (I made our church decorations and our wedding cake too!) I think it's great that there are so many choices and everyone can have the wedding that fits them and their budget the best.
1950's Vintage Wedding Dress by SybilStyle.etsy.com